Get Your CUNY Access Pass
CUNY now uses the CUNY Access Pass, a mobile solution designed by Cleared4 that facilitates entry to CUNY colleges and the Central Office. The CUNY Access Pass is a useful alternative for those whose ID card is unable to let them into the building facilities automatically and can be used for all CUNY buildings and facilities.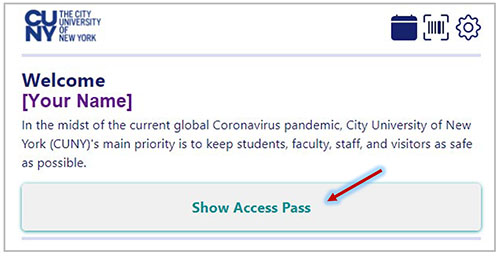 The CUNY Access Pass is available to CUNY students and employees whose vaccinations have been verified or who have received negative COVID PCR test results in the last 7 days. Because Cleared4 provides an integrated solution for both the vaccinated and testing communities, the CUNY Access Pass replaced the Everbridge VaxPass (used by those with verified vaccinations) on October 1, 2021.
The CUNY Access Pass can also be used by many others who wish to enter a CUNY facility and have a verified vaccination or a negative COVID PCR test result within the last 7 days, including visitors, contractors and vendors; employees with auxiliary, affiliate, athletics, college association and college foundation employees; and continuing education faculty and students.
Further information, including guidance on getting the CUNY Access Pass, is available on the CUNY website and in CUNY IT Help.