15th Annual CUNY IT Conference a Huge Success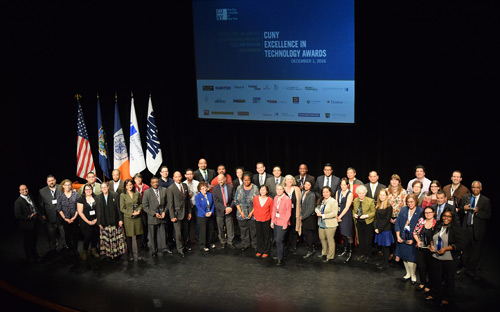 The 15th Annual CUNY IT Conference was held at John Jay College of Criminal Justice on Thursday, December 1 and Friday, December 2, 2016. This year's theme was: "Good Moves in Hard Times." The conference included over fifty panels, grouped into session tracks: Open Educational Resources, Digital Asset Management, Accessibility, Data & Research, Getting Started, Pedagogy, Community & Collaboration, and Student Support Systems. Jenifer Daniels, CEO of Colorstock, presented the first day's Keynote speech: "From Teacher to Techpreneur." George Otte, University Director of Academic Technology, CUNY and Associate Dean for Academic Affairs, CUNY SPS, presented on "CUNYfying Uses of Technology." Approximately 1,250 people registered for the conference, the largest number in the conference's history.
The annual CUNY Excellence in Technology Awards were presented at the end of the first day. The CUNY Central Office and CUNY campuses received the Collaboration Award for the "CUNY Academic Works" project, which provides an open, accessible gateway to publications produced by the CUNY academic community that is accessible worldwide. Lehman College received the Innovation Award for the "Process Improvements at Lehman College" project. Hostos Community College received the Outstanding Project Serving Students, Faculty, and/or Staff award for the project entitled "Are You Ready? Online Student Readiness Course," which helps prepare students for the online learning environment.